Word Searches for Kids
We hope you love our word searches for kids and use them often. Here you will find puzzles for children of all ages and some of the harder ones, even teens will enjoy. These puzzles have so many benefits, yet are simple and fun to solve. They might not realize it, but word finds will encourage children to: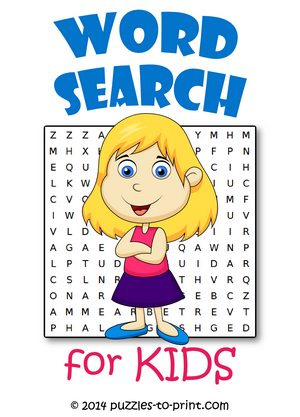 Explore new worlds of knowledge.

Many times the hidden words are centered around a topic of interest. Some of these are just for fun, but a topic can also introduce essential vocabulary that every child should possess.

Improve spelling.

Just by searching for a word, puzzlers are learning to spell. In fact they are rehearsing the spelling over and over in their minds as they look for the letters the word contains.

Improve concentration.

A valuable and increasingly rare skill, concentration is required to successfully complete these or just about any puzzle. They really do encourage the brain to stay focused.

Enhance visual acuity.

Eyes that are trained regularly to look for small details will be stronger and more effective in many situations.

Most importantly, these puzzles are quietly entertaining!

They can really come in handy during doctor visits, long trips in the car, or anytime you are hoping your child can sit still for a while.
---
Printing
We have formatted the puzzle pages so they should print correctly on almost all home printers. On each page you will find a link to print the puzzle and another to print the answers.
If you are a teacher, please feel free to use these word searches for kids as worksheets in the classroom. You may print and distribute as many copies as you wish.
More Puzzles - We have lots more printables, and you may find something else you like in these categories:
Harder Word Search Puzzles
Crosswords for Kids
Word Scrambles
Cryptograms
---
Easy Word Searches
These would be good for beginners, maybe kindergarten to about second grade. The grids are small and have ten or fewer words to search for. The words are either vertically or horizontally placed (no diagonally placed or backwards words).
---
Medium Word Searches
These would be good for third to fifth grade. The grids are medium sized and the words might be placed in any direction (vertically, horizontally or diagonally). The words might be backwards as well and the word list is between 15 and 20.
---
Challenging Word Searches
Aimed at fifth grade and up, these are basically as hard as our more adult word searches, but with subjects kids will especially enjoy. Words are hidden in all directions, overlaps are frequent, and the list of words to look for might be 20 or more.
---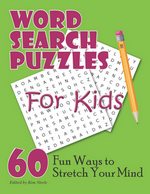 If you are convinced of the benefits you and your kids will be reaping with word search puzzles, you will want to peek inside this brain stretching printable book. Get 60 educational word searches for kids and you will have plenty to keep everyone entertained for hours. Children will love the topics and will be learning as they go. Baseball Legends, Rivers of the World, Italian Food and much more await them.
Word Search Puzzles for Kids: 60 Fun Ways to Stretch Your Mind