Cartoon Characters Word Search
Hunt down your favorite cartoon characters in this big word search puzzle. It is sure to entertain both kids and adults.
The 26 animated friends we have included are: Batman, Betty Boop, Bugs Bunny, Charlie Brown, Daffy Duck, Donald Duck, Fat Albert, Fred Flintstone, George Jetson, Gumby, Homer Simpson, Mickey Mouse, Mr. Magoo, Pink Panther, Popeye, Porky Pig, Rocky and Bullwinkle, Scooby-Doo, Spongebob, Superman, The Grinch, Tom and Jerry, Tweety Bird, Underdog, Wile E. Coyote, and Yogi Bear.
Happy hunting!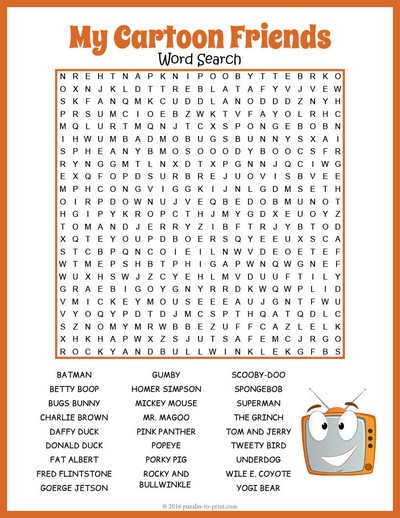 Find More Fun Puzzles