Seven Wonders of the Ancient World Word Search
Our Seven Wonders Word Search makes a great way to introduce this topic to elementary school students. They will have to do a little research to answer the first part of the word search challenge, which involves finding the location of the wonders. After that, look in all directions to find all of the words.
We are using the classic list of ancient wonders here, so you will need to find: Great Pyramid of Giza, Hanging Gardens of Babylon, Statue of Zeus at Olympia, Temple of Artemis, Mausoleum at Halicarnassus, Colossus of Rhodes, and the Lighthouse of Alexandria.
Solution included.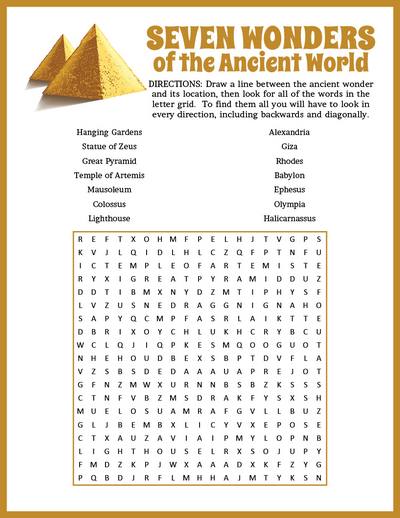 Are you or the kids interested in archaeology?
Here is a gerat resource for anyone teaching or learning about archaeology. It includes five puzzles (two crosswords, two word scramble worksheets, and a word search) as well as a concisely written glossary perfect for introducing archaeology vocabulary terms to your class or kids. Everyone will have fun "digging" in and looking for the artifacts!
You can find it here: Five Puzzle Archaeology Bundle.