Ancient Civilizations Word Search
Use this ancient civilizations word search puzzle when introducing a unit on ancient cultures or just keep it on hand for a fun quiet activity. Puzzlers will be learning the names and spellings of 21 different ancient civilizations while having fun doing a puzzle. The words are hidden in all directions including diagonally and backwards and many of them are overlapping. This makes a challenging word find.
The vocabulary words included are: Akkadia, Arab Empire, Assyria, Aztec, Babylon, Byzantine, Celts, China, Egypt, Etruscan, Franks, Huns, Incas, India, Japan, Mayans, Mongols, Ottoman Empire, Persia, Roman Empire, and Vikings.
Solution included.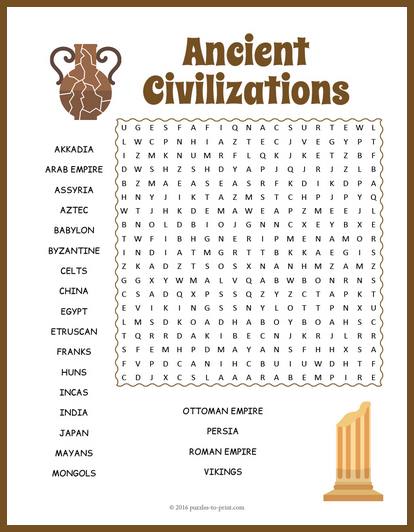 More Ancient Civilizations Worksheets
Keep your kiddos learning about ancient civilizations with our bargain bundle of word search puzzles available on Teachers Pay Teachers. The bundle includes puzzles for Ancient China, Ancient Egypt, Ancient Greece, Ancient Rome, Mesopotamia and the Vikings. Each one features a carefully chosen word bank that promises to expand knowledge all while having fun.
You can find it here: Ancient Civilizations Word Search Puzzle Bundle.