Ancient Egypt Word Search
Word search puzzles are a great way to escape. All you need is a sharp pencil and a cozy corner and you are set to take a little trip to ancient Egypt. Look for the words in all directions.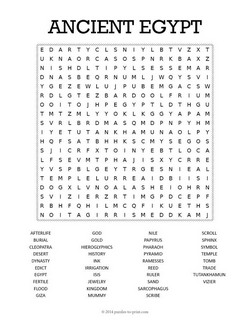 More Ancient Egypt Fun!
If your kids or you are crazy about ancient civilizations, we know you love King Tut and everything about him. Have fun, practice spelling, and expand knowledge all at once with our engaging King Tut word search available on Teachers Pay Teachers. It features 21 carefully chosen vocabulary words and comes in both a color and a black and white version (in case you want to save a little money on printing). We know you are going to love it!
You can find it here: King Tut Word Search Puzzle.