Zoo Animals Word Search
This fun zoo animal word search would make a great activity to give your class or kids before taking a trip to the zoo. There are twenty different zoo animals hidden in the letter grid and you will have to look hard to find them all.
The animals included are: alligator, camel, elephant, flamingo, giraffe, gorilla, hippo, kangaroo, koala, lion, monkey, panda, pelican, penguin, polar bear, rhino, seal, tiger, toucan, and zebra.
Free for you to print out for classroom or home use.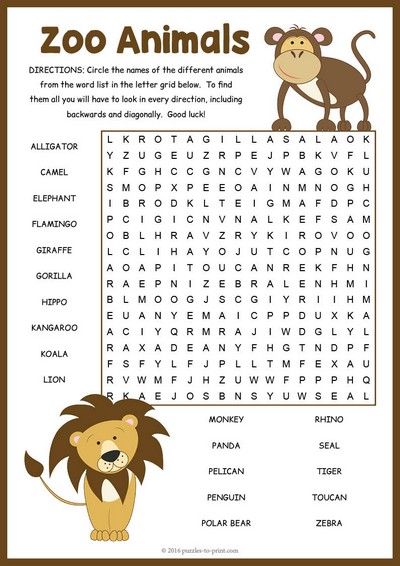 Get More Animal Puzzles
Do you love animals as much as we do? If so, you will have a lot of fun with our 50 puzzle bundle of animal word searches. We have included a lot of entertaining themes to keep you and your kids engaged and hunting for words. Learn the names of hundreds of different aniamls but also expand vocabulary and review spelling with this wonderful bundle.
Available on Teachers Pay Teachers: Animal Puzzle Bundle.