New Year's Day Word Search
Use our fun New Year's Day word search to celebrate the start of the new year. Looking for the hidden words is a great way to strengthen your powers of observation and get a stronger brain for what lies ahead.
The 38 vocabulary words to look for are: Auld Lang Syne, Baby, Ball, Balloons, Calendar, Celebration, Champagne, Clock, Confetti, Countdown, Dancing, December, Eve, Father Time, Firecracker, First, Flute, Games, Gown, Happy, Hat, Hourglass, Invitation, January, Kiss, Midnight, Music, Noise Maker, Party, Resolution, Sparkler, Streamer, Times Square, Toast, Tradition, Tuxedo, Vow, and Year.
Out with the old and in with the new!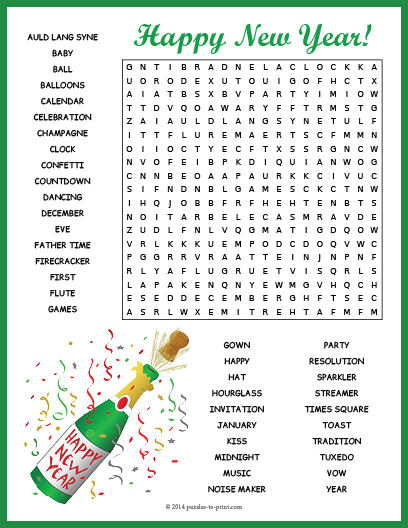 Puzzles for Upcoming Holidays: