Bastille Day Word Search
Bastille Day is celebrated every July 14th in France with a big military parade in the morning. At night, there is the Fireman's Ball in Paris and fireworks and village balls are popular activities around the country. Celebrate France's independence day with this fun Bastille Day word search puzzle.
The vocabulary words covered are: Ammunition, Bastille, Champs-Élysées, Clergy, Equality, Fourteenth, France, Fraternity, Gunpowder, July, Liberty, Louis XVI, Military, Monarchy, Nobility, Parade, Paris, President, Prison, Revolution, and Third Estate.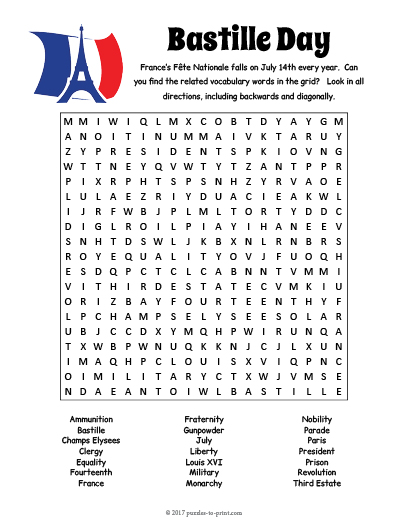 More Puzzles for You: