Airplane Word Search
This airplane word search is stuffed with 30 vocabulary words so it is sure to please for a while. Your puzzlers will have to look in all directions to find the words, including backwards and diagonally. We think it is the perfect take along on your next long trip.
The words to hunt down are: Airline, Attendant, Boarding, Cabin, Carryon, Check In, Claim, Crew, Customs, Economy, First Class, Flight, Jetlag, Landing, Lounge, Luggage, Mask, Meal, Movie, Overhead, Oxygen, Pass, Passenger, Passport, Pilot, Reservation, Seat, Seatbelt, Security, Take Off.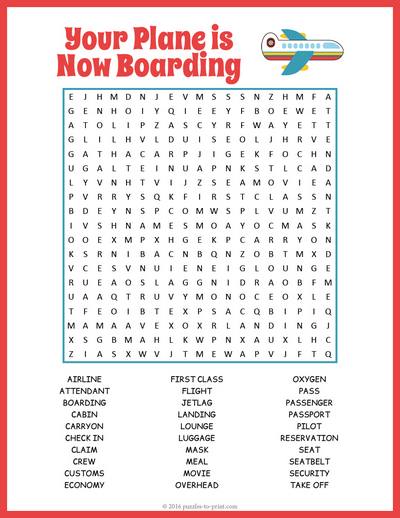 More Puzzles for Travelers: